---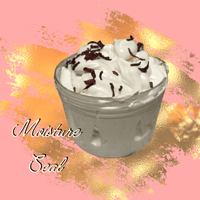 Sale
Looking for a natural hair product that delivers long-lasting moisture and hydration? Look no further than our luxurious whipped shea butter moisture seal. Our unique formula is specially crafted to provide nourishing care for curly, coily, and kinky hair textures.
Our whipped shea butter moisture seal is made from the finest quality nuts, and is whipped to a light and fluffy consistency, making it easy to apply and distribute evenly throughout your hair. This rich, creamy butter is packed with vitamins, minerals, and essential fatty acids, which help to strengthen hair, promote healthy growth, and protect against breakage and damage.
Our whipped shea butter moisture seal is enriched with natural oils and botanical extracts, such as jojoba oil, argan oil, and hibiscus, which work together to provide additional nourishment and hydration to your hair and scalp. This unique blend of ingredients helps to soothe dry, itchy scalps, reduce frizz, and enhance the natural shine and softness of your hair.
Our whipped shea butter moisture seal is free from harsh chemicals, sulfates, and parabens, and is suitable for all hair types, including natural and chemically treated hair. It's also vegan-friendly and cruelty-free, so you can feel good about using a product that's both effective and ethical.
Whether you're looking to restore moisture to dry, damaged hair, or simply want to enhance the health and natural beauty of your curls, our whipped shea butter moisture seal is the perfect addition to your hair care routine. Order now and experience the luxurious, nourishing benefits of our whipped shea butter moisture seal for yourself!
Ingredients:
Shea Butter, Almond oil, Vitamin E, Jojoba oil, Coconut oil, Avocado oil, Argan oil, Horsetail, Hibiscus.
Love it
I love how it makes my hair so soft and shiny. Locks in the moisture that my hair was otherwise lacking. I will buy more.
Very minimal shedding after weeks of box braids
Bekaaaaaaa, ma'am ..... this moisture seal is the truth! After 4-5 weeks of wearing my braids, my shedding is minimal compared to other times!! I won't wear braids without it 💪🏾
It lives up to it's name
The whipped shea butter is smooth, easy to apply to your hair and it smells sweet. Still has a note of shea butter smell too. And comes with herbs on top for aesthetics. Pairs perfectly when your hair is damp to seal in the moisture.