---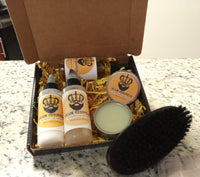 Sale
Introducing the ultimate grooming solution for distinguished gentlemen: the "Your Highness" Men's Beard Kit. Elevate your beard game to regal levels with this meticulously crafted system that caters to all your facial hair needs. Designed to enhance your beard's health, appearance, and overall sophistication, this kit includes four essential products that will transform your grooming routine into a majestic experience.
Reign over your beard's nourishment and vitality with the 2 oz. bottle of "Your Highness" Beard Oil. Infused with a carefully selected blend of premium oils, this elixir delivers intense hydration, promotes healthy beard growth, and tames unruly hairs. Experience the lustrous sheen and captivating scent that will leave you feeling like true royalty.

The 2 oz. "Your Highness" Beard Conditioner, enriched with the invigorating essence of sweet mint, provides an exquisite grooming experience. Immerse your beard in a refreshing wave of botanical extracts that deeply moisturize, soften, and detangle every strand. Embrace the sensation of a nourished and velvety-smooth beard that exudes irresistible freshness.

Embark on a cleansing ritual fit for a king with our New 2 oz. "Your Highness" Beard Wash. This specially formulated wash, designed specifically for beards, gently cleanses away impurities, excess oil, and product buildup. Let the captivating scent transport you to a realm of opulence while the unique blend of ingredients maintains your beard's natural moisture balance, leaving it clean, revitalized, and ready to rule.

Indulge in the luxurious touch of the New 1 oz. "Your Highness" Shea Butter Beard Balm. Crafted with the finest shea butter and enriched with nourishing oils, this balm offers exceptional hold, shape, and styling versatility. Embrace the power to sculpt your beard into a work of art, effortlessly maintaining its regal appearance throughout the day.
Each component of the "Your Highness" Men's Beard Kit has been thoughtfully crafted to cater to the unique needs of discerning gentlemen. Immerse yourself in the aromatic symphony, the lavish textures, and the unrivaled performance that will elevate your beard to a level of magnificence fit for a true king.
Join the ranks of distinguished gentlemen who understand the importance of a well-groomed beard. Order your "Your Highness" Men's Beard Kit today and experience the epitome of royal grooming. Embrace your majestic allure and let your beard reign supreme.
The Best
Baaaaaabbyyy in 10 years I've bought my husband all types of Beard stuff, I mean I done purchased all types of brands. He would use them once then leave them sitting there, but Baaaabbyy I gave him this kit😳. Everytime I turn around he in the bathroom just a washing n brushing. Then proceeds to tell me that this was thee BEST I ever bought him for his beard. Satisfied Customer and happy wife that loves the smell and feel of his beard. Thanks for making my hubby Happy 🙏🏾